News
By: Chris Saunders
05/17/2018 8:44 AM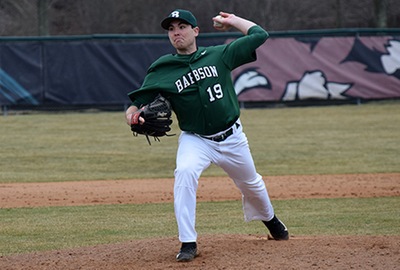 Michael Genaro had to grind through a tough Wheaton team during the NEWMAC Championship Sunday afternoon. The junior, being the crafty lefty he is found a way to get through a sluggish top of the 1st and 2nd surrendering 4 runs during that span.
A three run blast to right field in the first made the score 3-0, and an RBI double in the gap left center added another to make it 4-0. Genaro then pitched a clean top of 3rd and that's when the green and white erupted for 4 runs in bottom half of the inning.
From that point on Genaro settled down from thereafter and found what pitchers need. Key word is rhythm. Sometimes, as with any pitcher it may take an inning or two to adjust to the conditions-umpire-approach of the team against you.
For Genaro it took till the third, but that's why you have teammates. They picked him up in bottom of the 3rd, and from 4th inning until he was taken out with 1 out in the 8th went scoreless.
What's more impressive about an outing like that is some guys would get frustrated by struggling through the first couple innings and just resort to "throwing" instead of pitching due to anger. Genaro didn't do that. He gathered himself as a veteran pitch does, and was clutch the rest of the way.
With the win the Babson Beavers extended the winning streak to 11 games, but more importantly clinch their second straight NCAA Tournament Berth.
Babson will play No.7 Catholic (31-13) in the first round of the regional. Babson is 5-6 all time, however, won 4 times last year on its way to the Harwich Regional Final.
|
Back to index...