News
By: Chris Saunders
05/01/2018 7:17 AM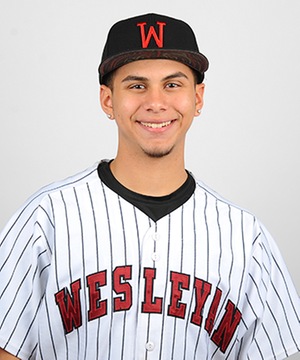 Wesleyan currently in the second place slot of the Nescac (New England Small College Athletic Conference) with a 20-11 overall record, 8-4 in conference.
Kelvin Sosa as a Freshman has been a major contributor thus far. Let's dig deeper shall we?
Sosa, from Bronx, NY first start of his college career was shaky on March 12th against Greenville when he only went 5 innings-5 BB's-6k's while only surrendering 2 hits. That's what you commonly expect from a freshman, but that's effectively wild no matter how you look at it.
That being said, however, Sosa's next 7 appearances were adequately pitched enough that 6 of them were starts. In total 4-2 overall record, 42 innings pitched, 43 K's-18 BB's. Being a left hander, you typically see southpaws develop a little later during their careers for many reasons.
Lefties are a different breed both in the way the ball comes out of their hands, to the mechanical movements towards home plate. Sosa, although it's a small sample size being just a freshman has shown early he can command the ball which bolds well for him. When you attack the strike zone early it puts batters automatically on the defensive. That allows you to expand the zone and utilize the secondary pitches (Slider, Sinker, Curveball, CH) depending on your repertoire.
With the Blues having four LHP's on their roster, it gives teams a different look rather than seeing righty after righty. Look for Sosa this summer being a major contributor for the Blues.
|
Back to index...