News
By: Chris Saunders
04/01/2019 8:40 AM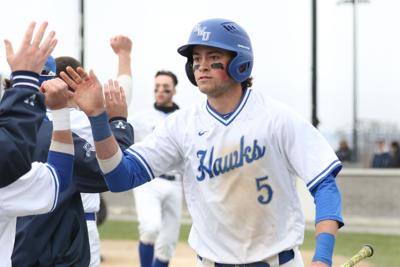 A 2016 graduate of William Hall High School, Danny Roth was a Four-year member of the baseball and basketball teams, lettering in junior and senior year.
During his time of Baseball and the basketball teams he was named captain in his senior year.
The Awards during his High School career both on a personal-team level speak for themselves!
-2016 Connecticut High School Coaches Association All-State First Team in baseball.
-2015 and 2016 CCC All-Conference Team in baseball.
-2015 Hall Warriors Silver Slugger.
-2016 Hall Warriors MVP.
-2016 Carey Award winner for Most Outstanding Senior Athlete.
-2016 American Legion Zone 7 Co-MVP.
-2015 and 2016 Central Connecticut Conference All-Academic Team for baseball and basketball.
Danny Roth would then play in 20 games during his freshman year at Roger Williams, starting in 19. Man oh man did Roth impress:
-Fourth on the team with a .294 batting average
-Led Roger Williams with a .456 on-base percentage…
-Second on the team with a .529 slugging percentage…Third on the team with 14 walks…
-Tied for third on the team with five doubles…
-Led RWU with three triple
Ever since the ending of his freshman year Roth has really become a figure point for the Roger Williams program, and 2019 has been no different. In 15 games Roth's line .327 with 13 runs scored. The now junior from West Hartford has only failed 3 times out of that 15 games stretch recording a hit.
You may ask how does Roth do it?
It's quite simple well simple. Roth's game isn't built around power, but he does trust his hands and hand-eye coordination enough to put that bat head on the ball.
Question will be where in the order will Roth bat. He does walk enough (Led team in Walks '18) and has shown enough speed to be a table setter at the top of the Blues lineup. Roth could also because of his high average and ability to extend at-bats could help turn the lineup over from the 8-9 spot. That would leave the percentages wavering towards the Blues when dealing with driving in runs.
No matter how you slice it though, one thing is certain. Roth like a good majority of this offensive lineup this 2019 Summer season can flat out it!
|
Back to index...