News
By: Chris Saunders
04/04/2018 9:45 AM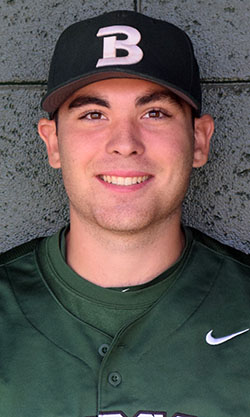 Michael Genaro 6'0-185 LBS LHP from Babson College has always been known as a workhouse on the mound, and his outing on March 27th against WPI showed no different. Genaro went the distance 7 innings, 10 hits, 3 earned runs, 1 BB, to go along with 6 strikeouts. Although the 10 hits can be alarming for any pitcher, Genaro has a nack for being able to work his magic and escape further damage. In football terms you hear the "Bend but don't break" reference to defense who will give up yards, but not yield TD's. Genaro is in that same mold, even dating back to his time with the Bristol Blues during his 2017 summer Season.
Genaro with the Blues pitched team high 43 2/3rds innings pitched, while relinquishing 53 hits, while only giving up 17 earned runs. Now, you'd think after hearing those numbers he must strikeout the ballpark right?
Actually Genaro is a contact pitcher, relying more on touch-feel of his pitches as well as reading hitters swings and tendencies. In a day of "Dead Brain Heaving" or in laments terms nothing but velo, it's a pleasure to see a guy who actually is an artist when it comes to pitching.
With Genaro returning to the Blues for the 2018 season, look for the LHP to be a crucial part of the '18 staff
|
Back to index...